A taste of the FGMAT-19th edition !
Rouyn-Noranda, December 7, 2022 – As an end of year gift, the Festival des Guitares du Monde team is offering to music lovers a little taste of its upcoming program by announcing two Quebec artists. These artists will be honoring us with their presence at the Festival's -19th edition, which will be held from Saturday May 27 to Saturday June 3, 2023.
Guided by our mission of discovering artists from all four corners of the earth, the programming committee succeeds brilliantly, year after year, providing a variety of surprising and beautiful discoveries! By joining forces with our two collaborators, Rouyn-Noranda's Théâtre du cuivre and Malartic's Théâtre Meglab who both share the same musical passion, the committee continues to offer great musical performances in our region.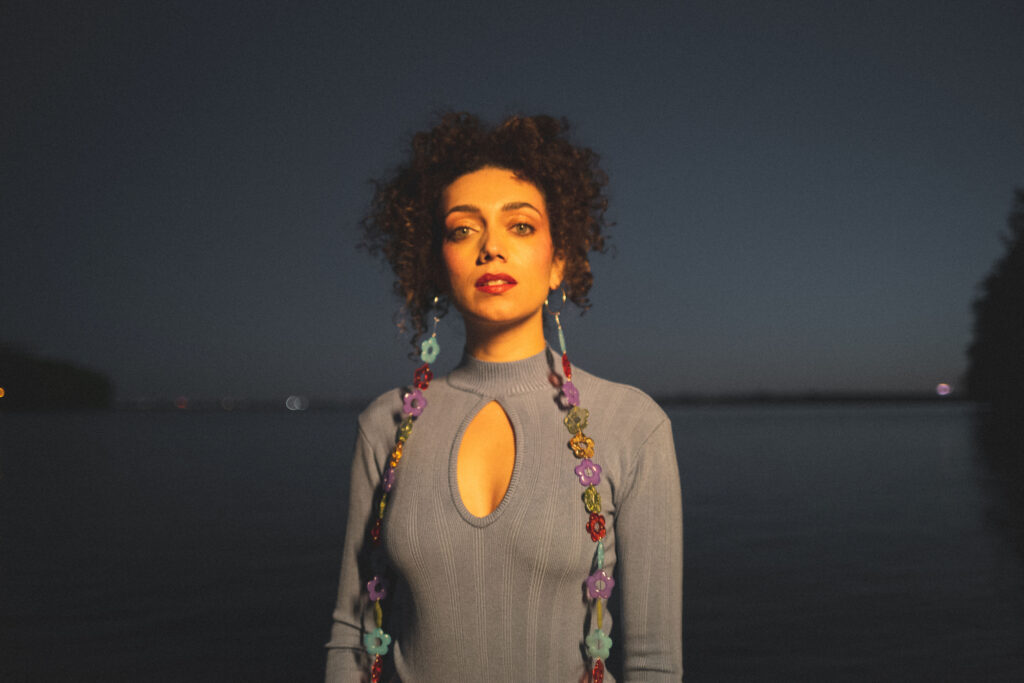 AN EVENING OF DISCOVERY OF A MONTREAL ARTIST
Thanks to the collaboration of the Théâtre du cuivre, the Festival has the pleasure of presenting this multi-talented artist with an exceptional voice, the unique Hanorah.
Hanorah is a singer-songwriter, guitarist and visual artist from Montreal. Her smooth-textured voice will have you intoxicated from her very first notes. In addition to making it to the quarter-finals of La Voix in 2017, Hanorah recently opened for Mavis Staples, Seratones and Coeur de pirate. She also won the FEQ Apéros contest and performed at the Ottawa Bluesfest and the Montreal International Jazz Festival.
She will be presenting her album Perennial with touches of groove, R&B and soul. Come meet an artist who we will be hearing about for a long time to come!
HANORAH
Wednesday May 31, 2023 | Théâtre du cuivre | 7:30 PM
Presented by : VILLE DE ROUYN-NORANDA
Style: Soul
Prices : Adults $28 / Students & Seniors (65+) $20 (services fees not included)
Tickets go on sale : this Friday, December 9th / 9 AM
Théâtre du cuivre Ticket booth
* * *
Additional HANORAH 'Tournée Spectour' dates in the region:
Thursday June 1 –  7:30 PM – Salle Félix-Leclerc – Val-d'Or
Friday June 2 – 7:30 PM – Théâtre des Eskers – Amos
AN INTIMATE FIRST VISIT TO THE FESTIVAL
The FGMAT team pleased to announce our first-time visiting, artist and guitarist Louis-Jean Cormier along with his very intimate and most welcoming show!
This show will not only be presented at the Festival on Thursday, but also on Friday in Malartic thanks to a collaboration with the Théâtre Meglab.
Louis-Jean Cormier has worn many hats in his career: singer-songwriter, album producer, arranger, guest musician, radio and television host. After studying classical guitar at CEGEP, Cormier and friends founded the group Karkwa, which arrived on the French rock scene like a breath of fresh air. After winning several Félix awards and a Polaris,  he decided to return to performing as a solo artist.
His show, Les passages secrets 2, mixes songs from his two most recent albums: Quand la nuit tombe and Le ciel est au plancher. With his singular guitar style and sincere voice, his songs take us to new avenues that will allow us to discover the heart and soul of this great artist.
LOUIS-JEAN CORMIER – solo
Thursday June 1, 2023 | Scène Desjardins | 8:30 PM
Centre de Congrès de Rouyn-Noranda
Presented by : BLAIS INDUSTRIES
Prices : general admission $35* (taxes & services fees not included)
Tickets go on sale : December 9th / 9 AM*
*please take note tickets are solely available on the web ticket booth
* * *
An additonal Louis-Jean Cormier performance as part of the 'sorties du Festival'
Wednesday May 31 | 7:30 PM | Théâtre Meglab – Malartic 
Price : general admission $37 (services fees not included)

Tickets go on sale : December 9th
These two shows are part of the main program presented at the next edition. The complete program of the 19th edition will be revealed at the end of March 2023. Keep an eye on our social networks for all the details.
                                                             — 30 —
Source :
Nathalie Grenier, general director
Festival des Guitares du Monde
819 797-8288 | [email protected]