A 19th EDITION IN TUNE!
Rouyn-Noranda, March 29, 2023 — The Festival des Guitares du Monde en Abitibi-Témiscamingue team is proudly unveiling its new image and its 19th program. Presenting a " renewed " unveiling formula that highlights the core values of our mission which is the importance of being in sync with constant offering of new discoveries and all the while ensuring a most welcoming accessibility to all. Thanks to the generous support of CANADIAN HERITAGE, the team has the pleasure of introducing an up-and-coming Canadian duo – THE BROS LANDRETH in 2 back-to-back evening performances.
Also, once again for a third time, we proudly introduce Andrée-Ann Dyell, a most talented artist, who knows the Festival like the back of her hand. Since 2011 while working at LEBLEU communication humaine, she has constantly pleased the team with her ideas and works that uniquely depict our Festival.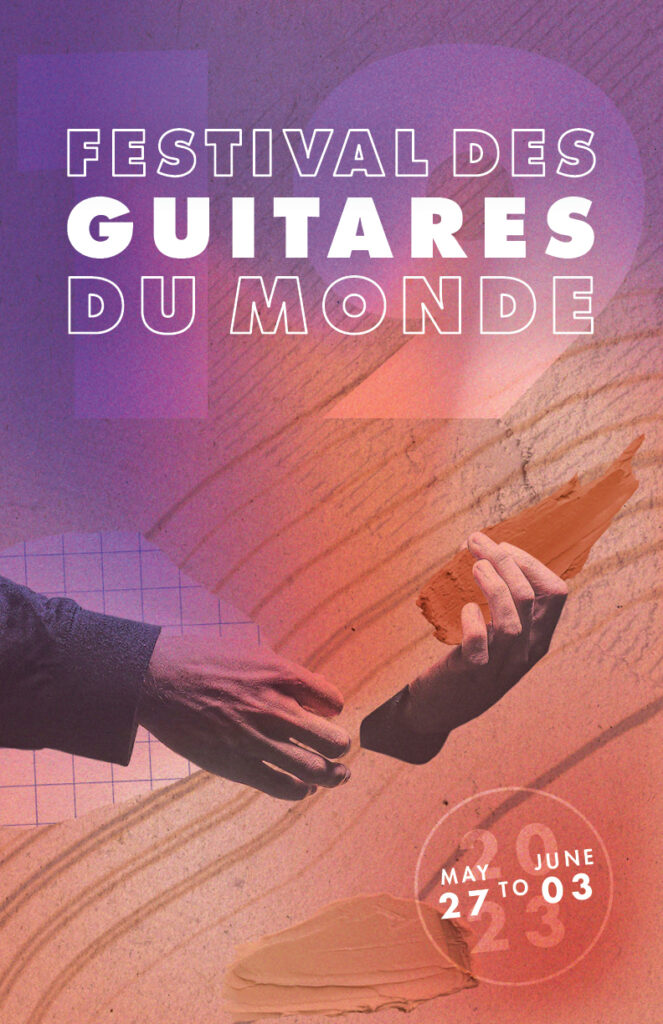 Andrée-Ann's inspiration :
It is with a soft and poetic poster that artist DYELL transports us into our Festival universe by allowing us to imagine the music of our choice thanks to the representation of the "air guitar". The musicality comes from the guitar, but it cannot resonate without the hands and fingers that play it.
The hands and fingers become carriers of meaning, carriers of sounds, carriers of rhythm and carriers of emotions – a "dexterity" that we admire without a doubt.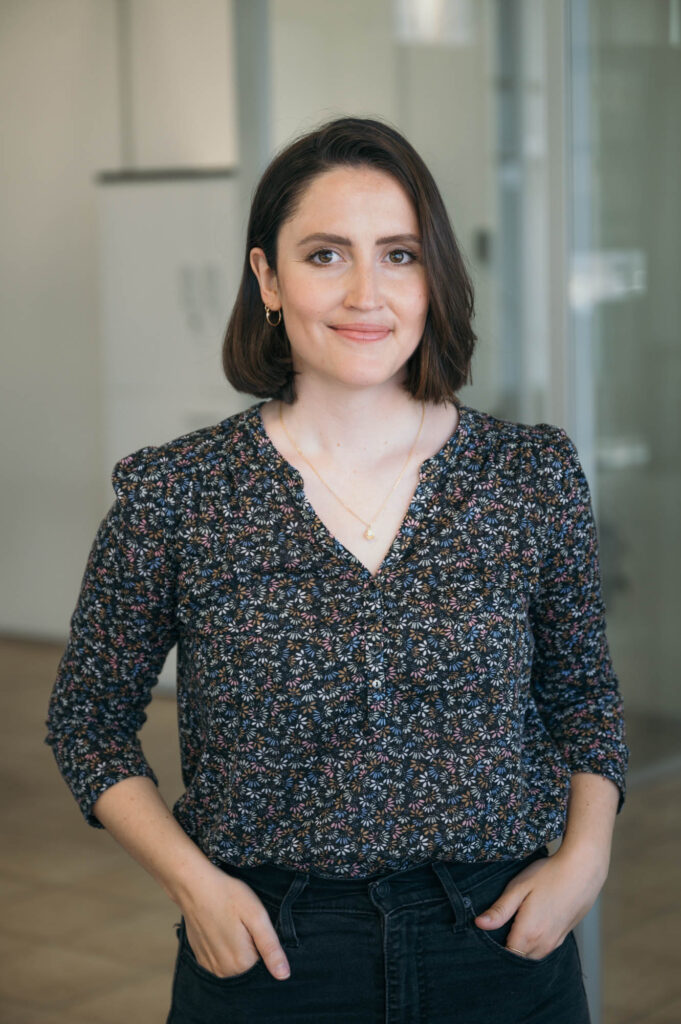 Good news, the Festival des Guitares du Monde is back with its original 3 venues, with the return of our long-time ally, in an all new dazzling décor: Agora des Arts. In addition to the original 3 venues, we also have the exterior venue, totalling 4 which will welcome many talented artists over 8 Festival days. For a second year, in 3 different venues, Guitareville will feature additional talented artists for the last two days of the Festival. Guitar strings will soon be vibrating in Old Noranda thanks to our official Festival sponsor Desjardins and our many more precious partners.
Now here is an overview of this year's prestigious selection of artists. The 2023 Festival opens with the charming Canadian folk trio GOOD LOVELIES; three talented women who wildly wield the guitar while wonderfully harmonizing. The Good Lovelies are followed with a late rock evening with the Canadian DANIEL LANOIS, a prolific artist with more than 12 eponymous albums and numerous distinctions, including several Grammy and JUNO awards. For our lovers of classical music, we are dedicating an evening to you where an ensemble of 12 guitars boast the largest repertoire in the world – FORESTARE. This classical evening finishes with the flamboyant violinist of international reputation ALEXANDRE DA COSTA and his show BaROCK. The next day leads us into an classical experience with the exceptional French composer-classic guitarist ARNAUD DUMOND, accompanied by flamenca ELENA SAN ROMAN.
To stay in a warm and authentic musical style, a latin evening follows with TWANGUERO – "king of twang"- the Spanish guitarist known for his incredible masterful guitar playing technique. JOHANNES LINSTEAD one of the Festival's favourites, named Canada's "guitarist of the year", selected 7 times for "10 best albums" by the American Billboard finishes the evening. Descending from the line of Griots, but just as incandescent and rhythmic with her high-pitched voice, the elegant DJELY TAPA takes us on a journey through world music.
Rarely have we had the pleasure of seeing  LOUIS-JEAN CORMIER unaccompanied but this evening, solely with his unique guitar playing and his genuine voice he will be giving himself up – heart and soul wide-open. LOUIS-JEAN CORMIER'S opening act ALEX PIC, an artist strongly rooted in Abitibi, will prepare you for a 100% acoustic evening! Get ready for the inspiring SCOTT-PIEN PICARD, originally from the North Shore just like his sidekick Louis-Jean, but more specifically from the Uashat Mak Maliotenam community, who invites you to discover the richness of Innu culture through his catchy folk show.
Come and enjoy some South American roots inspired music. The only Canadian to have participated in "The Voice" in the United States, Montrealer BRITTANY KENNEL spent 8 years in Nashville and is returning to Canada to pursue her career. In addition to her music pieces, she offers a show where she tells her stories in her own modern personal country style.
In Americana – Tex-Mex style, THE MAVERICKS are one of the most critically acclaimed bands of the 90s recognized with numerous accolades in the music industry which includes a GRAMMY award. This big band is recognized for its very dynamic live shows and is surely to be "the hot ticket" for this 19th edition.
In a double program for the more technical  guitar and fingerstyle enthusiasts, you will most certainly enjoy the next musicians:  JAMIE DUPUIS, our Ontario neighbour, virtuoso guitar-harp player who made a strong impression during his first visit. You will also enjoy one of the most exciting acoustic musicians GARETH PEARSON of British origin and nicknamed " The Welsh Tornado ".
Finally, it is impossible to complete the Festival's program without an evening of blues. Once again, big names are coming : SUE FOLEY, a Canadian guitarist and singer with an instrument as famous as she: her pink paisley Fender Telecaster. At the moment, Sue is one of the best artists in blues and roots. We will be slipping into R&B-soul with HANORAH as we conclude this magnificent selection of musicians. From the first notes, this Montrealer will intoxicate you with her supple and textured voice as she wins you over!
For our younger audience, we will be hosting the dynamic show KATTAM! This school component will be presented in a hybrid format; either face-to-face for Rouyn-Noranda primary students and/or in virtual mode for Abitibi-Temiscamingue schools.
With regards to the outdoor site, the ZONE AGNICO EAGLE, will have a new stage along with a elegant festive site decorated in the colours of our precious partner. The Festival outdoor site will return to its original location, next to Agora des Arts along with the guitar sculpture set between Murdoch and Frédéric-Hébert avenues. The midday concerts – free for everyone – continue to present regional and emerging artists during the Festival's 8 days. The Noranda hotel & spa caterer and the FGMAT Bistro are back with their delicious menus.
For those who were charmed by our GUITAREVILLE project, you will be very happy to know that it is back for a 2nd year thanks to the support of  Mine Westwood – IAMGOLD! For 2 evenings only, on June 2 and 3, you will have the opportunity to hear artists, each more varied and colourful than the next to help brighten your evenings. All details will soon be announced!
A new project that we have been exploring for several years makes its debut at the Festival during the first weekend, May 27 and 28. It is at the Agora des Arts "studio" where we will have our first SALON DE LUTHERIE thanks to support from the Fonderie Horne. Lutherie is the art of making hand-built guitars. Open to all and free, at this new activity the lutherie will share their passion for their profession, demonstrate their guitar design techniques and will present some of their model guitars.
During the evenings from June 1 to 3, come visit the SALON DE GUITARES at the Centre de Congrès to examine up close and to try several models of guitars and amplifiers under the judicious advice of Musique Mignault.
Here are other musical activities to be added to the program : 2 Concertos (May 27 and 28), the famous Concert de la relève (June 3), senior residence concerts (between May 29 and June 2), an inclusive show with the Fraternité St-Michel (May 31) and several other activities to be confirmed.
To find out more, follow us on Facebook, Instagram, our new mobile app (available on Google Play and App Store) and at FGMAT.COM.
Ticket booth
Tickets will be on sale starting March 30 at 9 am via the online box office at FGMAT.COM or by phone at 819 797-8288 (toll-free 1 877-997-8288). Please take note that the Festival office (located in the Agora) is only open on weekdays (9am to 4pm), we strongly encourage festival-goers to purchase their tickets via our website at https://fgmat.com/en/ticket-booth.
Source:
Renée Arsenault, Communications and press relations coordinator
Festival des Guitares du Monde
[email protected]