Details
June 2
6:00 pm
Doors open at 5:30 pm
---
GLENCORE STAGE
Petit Théâtre du Vieux Noranda
---
$25* (in venue) / $20 (virtual)
Presented by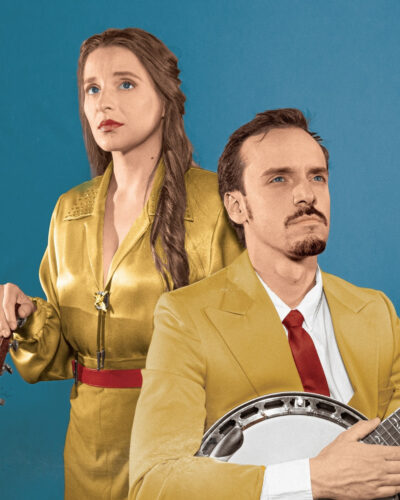 About the show
---
*Taxes and service charges extra.
VERANDA
---
Veranda is the collaboration between actress and musician Catherine-Audrey Lachapelle (District 31) and multi-instrumentalist musician Léandre Joly-Pelletier. The two young artists come from very different spheres, and this is what gives so much richness to their work. Veranda offers a perfect blend of influences, skillfully blending bluegrass, folk and country. The duo navigates wonderfully between simplicity and virtuosity, and offers rich melodies enhanced by refined harmonic work. After a first EP in English ranked among the best albums of the mid-year by ICI Musique in 2019, the duo now offers a second album, entirely in French this time. With this unique new work, as festive as it is sensitive, Veranda stands out for the originality of its approach.
Imagine a remote place, a bucolic cabin in the woods, in front of which Dolly Parton, Ralph Stanley and Emmylou Harris are quietly rocking. Veranda, that's it. With Veranda, expect a show as sensitive as it is boosted where violin, mandolin, banjo and guitar will skillfully respond.
Follow the artist
---
Available on
---