Details
May 31
8:30 pm
Doors open at 7:30 pm
---
DESJARDINS STAGE
Centre de Congrès
---
$40*
Presented by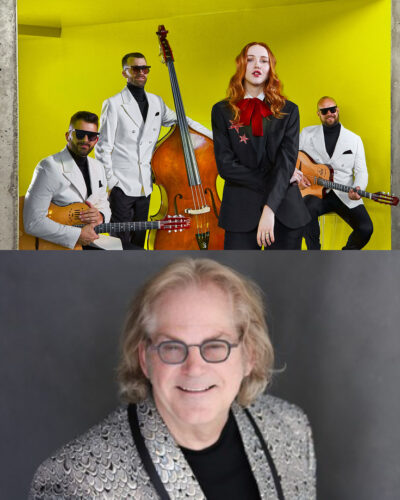 About the show
---
*Taxes and service charges extra.
THE LOST FINGERS
---
In 1928, following a fire in his caravan, Django Reinhardt, then 18 years old, lost the use of two fingers. He then developed a unique method for playing the guitar, was inspired by jazz, and quickly became a source of inspiration. It is this story that inspired the name of the group. In 2006, at the Conservatoire de Québec, the two guitarists and the bassist behind the group The Lost Fingers merged. For the humor of the music, they decide to unite their three voices and their multiple strings to pay homage to the 80s, as the great Master of gypsy jazz could have done.
After seducing Quebec with its first album Lost in the 80's, selling over 400,000 copies, The Lost Fingers have performed in 24 different countries, scored several Juno and ADISQ nominations and awards. They have performed with pop & jazz stars such as Celine Dion, Bireli Lagrene and 8 time Grammy Award winning instrumentalist John Jorgenson (sideman for Elton John, Pavarotti & Barbara Streisand)!
Since 2008, audiences have been dazzled: the hits from the 80s to today revisited in a gypsy swing manner combined with sophisticated arrangements, and a fresh dressed style have made The Lost Fingers a must see. Their energy, style, swing, smiles, humor, musicality & virtuosity will definitely entertain you!
Follow the artist
---
Available on
---
JOHN JORGENSON
---
John Jorgenson is born July 6, 1956 in Madison, Wisconsin. Beyond the guitar, Jorgenson is also proficient in the mandolin, mandocello, Dobro, pedal steel, piano, upright bass, clarinet, bassoon, and saxophone. John Jorgenson, known for his blistering guitar and mandolin licks and mastery of a broad musical palette, has earned a reputation as a world-class musician, as evidenced by his collaborations with Earl Scruggs, Bonnie Raitt, Elton John, Luciano Pavarotti, Bob Dylan and many others.
First coming to national attention in the mid '80s as co-founder of successful country-rock act The Desert Rose Band, an eclectic array of artists such as Bonnie Raitt, Bob Seger and Barbra were drawn to add Jorgenson's artistry to their own recordings. While a member of the Desert Rose Band, Jorgenson won the Academy of Country Music's "Guitarist of the Year" award two consecutive years.
In the '90s The Hellecasters gave audiences a chance to discover Jorgenson and the trio's three original albums remain favorites of guitarists everywhere. Having been a fan of the Desert Rose Band, Elton John invited Jorgenson to join his band in 1994 for an 18 month tour that stretched into a six-year stint of touring, recording and TV appearances with the British superstar, in addition to collaborations with other artists including Sting and Billy Joel. Elton John called Jorgenson a "brilliant guitarist".
2010 marked the 100th birthday of the great gypsy guitarist Django Reinhardt. Since discovering Django in 1979, Jorgenson has become "the US Ambassador of Gypsy Jazz" which is quite an honor given the distinctly European slant of the music's heritage. Over the years Jorgenson has continued to honor the legacy of Reinhardt by bringing his unique brand of Gypsy Jazz to the masses with his John Jorgenson Quintet.
Jorgenson continues to expand his dynamic range of musical offerings, exploring new elements of world music, bluegrass, rock and classical as he captivates and enlightens fellow musicians and listeners along the way. Jorgenson annually plays dates across the U.S. and Europe. Each permutation allows him to make prodigious use of his mastery of many instruments; no matter which band Jorgenson is playing with, his brilliant guitar work leads the way with music that is a combination of groundbreaking playing full of soaring melodies and driving rhythms. His contribution is utterly one of a kind by not only Jorgenson's skillful guitar playing, but also his solo clarinet, bouzouki, and vocal performances as well.
Legends like Elton John, Earl Scruggs and Duane Eddy along with fellow guitarists such as Tommy Emmanuel, Peter Frampton and Brad Paisley have sung Jorgenson's praises, and the best way to find out what they already know is to check out this artist who is leaving a lasting legacy in the art of guitar performance. Djangobooks perfectly articulates, "If he comes around, don't miss him. The show is golden. The music soars."
Follow the artist
---
Available on
---