Details
June 1
6:00 pm
Doors open at 5:30 pm
---
GLENCORE STAGE
Petit Théâtre du Vieux Noranda
---
$30*
Presented by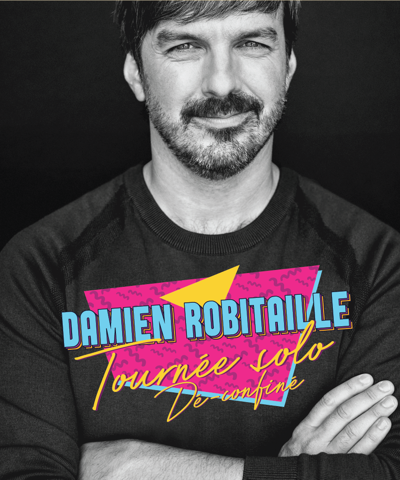 About the show
---
*Taxes and service charges extra.
DAMIEN ROBITAILLE
---
Damien Robitaille's charm and originality have allowed him to build a growing and loyal audience. This is obvious: Damien Robitaille is an exceptional man. A magnetic showman, pop genius and exalted poet all at once, this songwriter embodies an ideal, that of the all-round modern man.
Active since the turn of the millennium, Damien Robitaille is as much a dashing songwriter of his own songs as he is an astute interpreter of those of others. Originally from the small Franco-Ontarian village of Lafontaine, he is now based in Montreal.
But… did we know he had the gift of ubiquity? After having swung the entire planet's hips with the soulful Homme Autonome, Damien raises his glass – a piña colada! – to the extraordinary god-given talents he showcases on Omniprésent, a third album oozing with sensuality. With Omniprésent, which, on a strictly phonetic level, follows the path taken on L'homme qui me ressemble and Homme Autonome, Damien is attempting quite a facelift, proving, if need be, that no genre can resist his sweet madness. He is signed under the Audiogram banner and has 5 albums to his credit, all marked with the sensitive humor that is unique to him – which notably earned him the Félix-Leclerc award of the Francofolies. His most recent salvo is possibly also his greatest coup: since 2020, he has published videos of covers of well-known songs in which he overlaps while playing all the instruments, highlighting his talents as a multi-instrumentalist. Like the rest of his work, it casts a wide net, it's invigorating – and it will necessarily have an impact on the rest of his work as a songwriter, in addition to having allowed him to win the Félix for the Artist of the year with the most exposure on the web at the ADISQ gala in 2021.
Solo show: Dé-Confiné
During the long period of confinement, Damien Robitaille offered more than 100 songs of the day to his audience via social networks. On piano, guitar, drums, the pandemic has made us discover a real Man-Orchestra. Here he is finally de-confined in order to present his greatest successes in front of a real audience. You can bet Damien's new show will be captivating, just like him and his contagious energy.
Follow the artist
---
Available on
---