Details
May 28
11:00 am
---
CONCERTO ROOM
Centre de Congrès
---
FREE AND OPEN TO ALL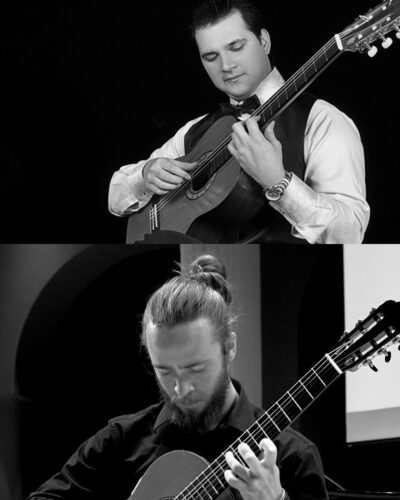 About the show
---
The Festival des Guitares du Monde presents 2 classical guitarists who have perfected their playing under the teachings of Abitibi master Rémi Boucher.
11:00 – Mehrdad Mahdavi (30 minutes)
11:30 – Thierry Garneau (30 minutes)
MEHRDAD MAHDAVI
---
Mehrdad Mahdavi is an Iranian classical guitar player and arranger. He started playing guitar at age 12 in Pop and Classical styles. After taking Pop style lessons, he began learning classical guitar methods under the supervision of Rasam Lordkani; meanwhile, he was taking theory and harmony courses by Dr. Loris Hovian.
Mehrdad was one of the members of the Zaman Orchestra, working as a guitar player and supervisor of the Zaman's quartet in Tehran. This experience as well as being familiar with some most difficult classical guitar arrangements have inspired him to arrange some complex pieces such as Prelude in C#minor Op.3 No.2 composed by Rachmaninoff and Time from the movie Inception composed by Hans Zimmer. In addition, these arrangements have encouraged him to innovate a new playing method for this musical instrument.
Mehrdad has published an article titled New Technique for Playing Classical Guitar (in English and Persian), which introduces a new method for playing large intervals, especially those that were impossible to play previously. The idea of using Lip and Nose techniques helped him to achieve admission to the Doctorate in Music by Direct Ph.D. Scholarship for Interpretation in Music Program under the supervision of Professor Rémi Boucher at Laval University in 2020.
After earning a Bachelor of Music in Musicianship of Global Musical Instrument, Mehrdad released the Guitar Memories album in Iran. The album includes baroque to recent-era pieces of the classical guitar solo. He has also been arranging some guitar pieces, using his innovative techniques, which will be released in the future.
THIERRY GARNEAU
---
Thierry Garneau began learning the guitar at the age of 10. He studied classical guitar at Cégep de Sainte-Foy as well as at Laval University and is currently perfecting his playing with Rémi Boucher in the Laval University master's program. A lover of world music, jazz and progressive music, he devotes himself more specifically to the contemporary guitar repertoire. You will hear a varied repertoire that will take you around the world and allow you to familiarize yourself with various musical cultures, from South America to Asia, via Europe. He has the pleasure of playing in a few musical formations in Quebec in which he explores gypsy jazz and progressive metal.