ONCE AGAIN… A "WELL-TUNED" SPRING!
Press release
For immediate release
Rouyn-Noranda, April 13, 2022 — For several years, the announcement of the Festival des Guitares du Monde en Abitibi-Témiscamingue (FGMAT) program has been revealed at the same time as the first "tweets" of spring. From May 28 to June 4, the 18th edition is "budding" with a variety of musical offerings, much to the delight of festival-goers.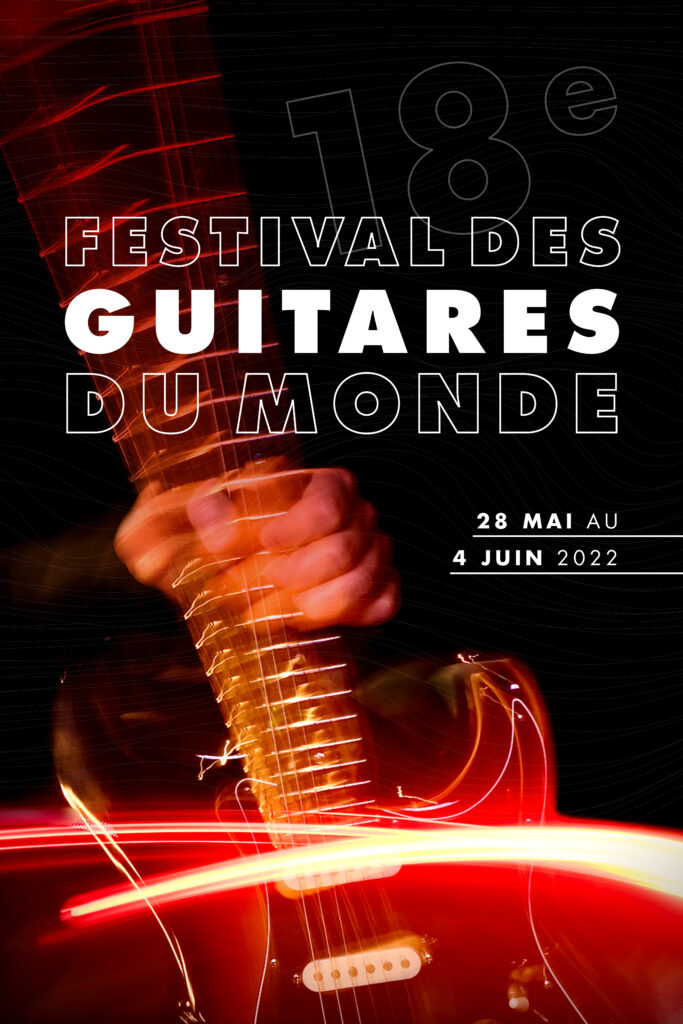 To kickoff this edition, the organizing committee entrusted the visual creation mandate of the poster and the trailer to a longtime collaborator, artist and videographer – Etienne Lessard.
His wonderful creativity has captured the warm atmosphere of the Festival.
During these 8 days of festivities, guitars will vibrate again in the Old Noranda district, thanks to many partners including Desjardins as the official presenter. All of the main concerts will take place on the Glencore stage at the Petit Théâtre du Vieux Noranda and on the Desjardins stage at the Centre de Congrès. Artists, each more talented as the other, will delight our music lovers.
Quebec's rising folk-pop star GENEVIÈVE RACETTE, is currently enjoying great success. In addition to this exciting news is DAMIEN ROBITAILLE a Franco-Ontarian, this much-loved one-man band has brilliantly entertaining us on social media for the past 2 years. In bluegrass style, we welcome the friendly Quebec duo VERANDA who sing as much in French as in English resulting in a joyful, festive, vintage and evocative memories. After a long-awaited return to the music scene, the Americana style Ottawa-born singer-songwriter will honor us with her presence: KATHLEEN EDWARDS.
Continuing with musicians who radiate their deep culture passion beyond their roots, our first 2 artists are proud messengers of Francophonie and renown bearers of Cajun music. Known for bringing Acadian culture to light for decades, ÉDITH BUTLER and ZACHARY RICHARD time has not diminished their passion for their profession. Our second cultural group, DIGGING ROOTS offers us a refreshing mix of blues–folk–rock and hip-hop as they invite the audience to celebrate their Anishinabe and Onkwehonwe traditions.
For those who love the blues, here are 2 musicians to charm your ears. We proudly mark the return of a greatly appreciated artist, HARRY MANX, who marries traditional blues with classic Indian raga. Also, a first time visitor to our Festival and according to Buddy Guy, "one of those who will keep the blues alive", we welcome the incredible JW-JONES.
All on acoustic guitar, 40 FINGERS, an Italian quartet on their first visit to North America guarantees a dynamic closing concert! Totalling several million views, their videos are a huge success. The eccentric group THE LOST FINGERS, our historical outstanding artists from the beginning of the Festival, returns accompanied by the American ambassador of gypsy jazz: the brilliant guitarist JOHN JORGENSON. Djangobooks perfectly articulates, "If he comes around, don't miss him. The show is golden. The music soars." Continuing with predominantly flamenco Latin music which is the result of the fusion of their Cuban, Peruvian and Argentine origins, we welcome the duo HAVANA SKY.
Without a doubt, one of the darlings of festival-goers and master of fingerstyle, is the incomparable TOMMY EMMANUEL, CGP. Beyond his extraordinary guitar playing, you will find an infectious joy and an authenticity that the public loves to revisit with him time and time again. He will be sharing the stage with one of his great accomplices, the fabulous RICHARD SMITH. Tommy says: "If you like my playing, you should hear Richard Smith! The world champion!"
As an invited guest on a G3 tour, PAUL GILBERT is certainly a "must" for rock lovers. He will charm festival-goers with his indisputable technique combined with his love of music and his sense of humor. And finally, Danish classical guitarist MIKKEL ANDERSEN will captivate his audiences as he walks through classic guitar nuances that invite your emotions, feelings and soul into the present moment.
Thanks to BLAIS INDUSTRIES, whether you are here or elsewhere in the world, you will be able to connect to the 6 webcast performances held at the Petit Théâtre. Staying in virtual mode that elementary students from Rouyn-Noranda and A-T will be able to attend DAMIEN ROBITAILLE's show, which will be specially adapted.
Thanks to the new PARTENARIAT CANADIAN MALARTIC partnership, at the newly located outdoor site in front of the Petit Théâtre du Vieux Noranda, we mark the return of the free 8 noonhour concerts supported by HYDRO-QUÉBEC.
As a novelty in the region and to liven up the evenings, announce "GUITAREVILLE – QUARTIER MUSICAL PROJECT" held from June 2th to 4th in specific establishments found in the Vieux-Noranda district. Stay tuned for additional information the project and more musical activities.
To find out more about our events, follow us on Facebook, Instagram, Twitter and at FGMAT.COM.
Ticket Sales
Tickets will be on sale starting Thursday, April 14th at 9:30 a.m. via the online box office at FGMAT.COM or by phone at 819 797-8288 (toll-free 1 877-997-8288). Please note that due to renovation work currently underway at the Agora des arts, the Festival office which is located in the Agora will not be accessible to the public. We therefore encourage festival-goers to purchase tickets via our website or by phone.
— 30 —
Source:
Renée Arsenault, communications and press relations Manager
Festival des Guitares du Monde
[email protected]