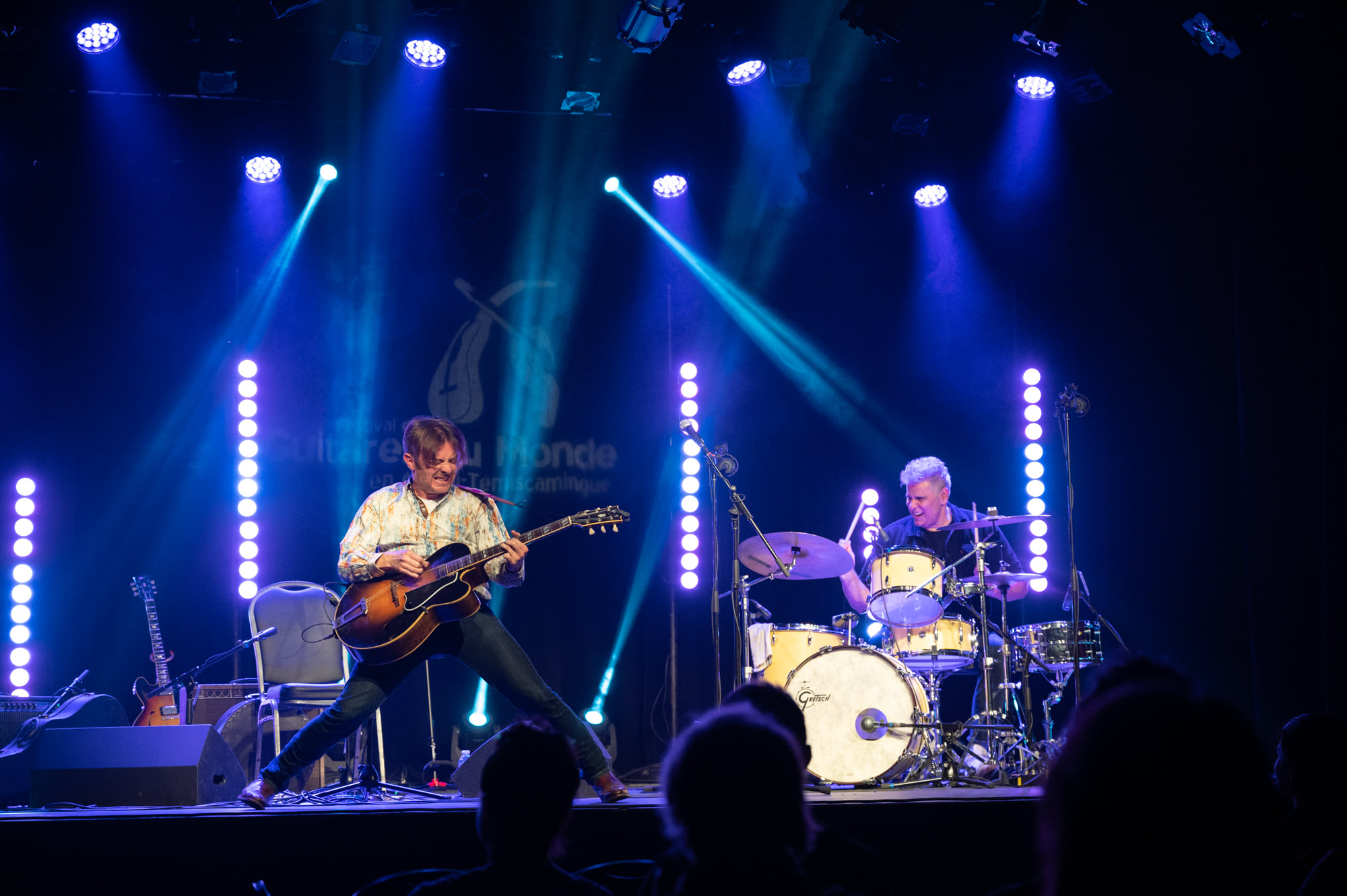 Bold, excinting and a lot of guitars !
Press release
For immediate release
BOLD, EXCINTING AND A LOT OF GUITARS!
Rouyn-Noranda, October 12, 2021 – The 17th edition of the Festival des Guitares du Monde demonstrated that Quebec and Canada are full of talented guitarists. The artists were delighted to find involved and connected audiences and festival-goers. No less than 16 major shows were presented.
A strong start
We started strong with Mamselle Ruiz, Kora Flamenca and Michel Pagliaro, who exceeded expectations. Along with their performances and their charisma, they were accompanied by breathtaking guitarists. And, to top things off, Ariel Posen introduced us to his unique style before resuming his international tour. A great way to start the festival!
The week continued in full diversity
The female folk double show with Catherine Durand and Marie Claudel was weel received. Equally a hit was David Lafleche's sensational very first headliner performance. An emotional moment for David was the appearance of his sole mate, Marie-Mai who much to the delight of the many festival-goers joined him on stage to sing a few final songs. In addition, the sold out blues-rock show the Justin Saladino Band was one of the festival's favorites.
The international… and educational component!
The Festival team was daring in offering an international first-time presentation via "big screen". Challenge met and a success: this immersive experience was very well received the young Russian virtuoso, Alexandr Misko, transcended the screen. Making us feel as if he was in the room, he shared his musical knowledge and experiences. All the while he intricately displayed his unique talent in playing different fingerstyle techniques ending with an off-the-wall Euro-style.
Festival-goers were impressed by the collection of 14 guitars presented by David Jacques, the oldest of which dates from 1665. Each had its own history and sound. For his part, Antoine Dufour also allowed us to learn about fingerpicking techniques.
The young audience was not left out
Mamselle Ruiz and her friend, the clown Sinjalin, offered a virtual performance to many public schools which was virtually appreciated by nearly 4,000 students from schools in Rouyn-Noranda, Malartic and Témiscamingue. As for the families who came to the Petit Théâtre on Sunday afternoon, to attend the show "Le Collectionneur", presented by David Jacques. The children were very attentive and showed their appreciation!
Meet the Seniors
Several Rouyn-Noranda senior had the great pleasure of enjoying a mucial performance presented by the friendly and jovial, François Poulin.
Make way for regional and emerging artists
Regional artists have been put forward thanks to the La Fabrique Culturelle stage. We had the pleasure of hearing Mathieu Piché, Raphaël Martin, Alain Bellavance and Mario Fortin on guitars as well as Maëly Boutin on the ukulele. The Wildwood Family also added to our local flavor as two of its members are from the region.
In tune with diversity
A very unique show was offered to the public free of charge. Professional musicians accompanied 'La gang à Rambrou', a non-profit organization in Rouyn-Noranda that promotes expression and creativity in autistic people. The festival-goers present were very touched by this quality presentation.
Many shows available virtually
The 9 shows offered at the Petit Théâtre du Vieux Noranda were also offered via webcast, presented as the "Desjardins virtual series". Image and sound were captured by a dedicated technical team, making it possible to provide high-quality broadcasting. Not only many people from different regions of Quebec but also many from several countries including Russia, Japan and the United States "connected" with us. A great way to shine outside the region!
A collaboration that caught everyone's ear and a frenzied closing
The reunion of the great guitarist, Rémi Boucher, with the Aiguebelle ensemble and its conductor, Jacques Marchand, amazed the eyes and ears of a conquered audience. This show is the result of a collaboration with the Théâtre du cuivre and Spector. And then there was the duo presentation of the guitarist Jordan Officer and who to a full packed room performed a very unique and captivating final show!
In conclusion
Heat, there was some! Whether it was the warm welcome that festival-goers reserved for the artists or the exceptionally warm and beautiful weather for the month of October, it was a plus for everyone. In 9 days of festivities, the 17th Festival des Guitares du Monde in Abitibi-Témiscamingue welcomed more than 8,000 admissions. It is with great pride and filled with many ideas in mind that we set our next "rendez-vous". In 8 months, we look foward to seeing you at the 18th Edition to be held May 28th to June 4th 2022! Dtay safe!
— 30 —
Source:
Nathalie Grenier, directrice générale
Festival des Guitares du Monde
819 797-8288 | [email protected]