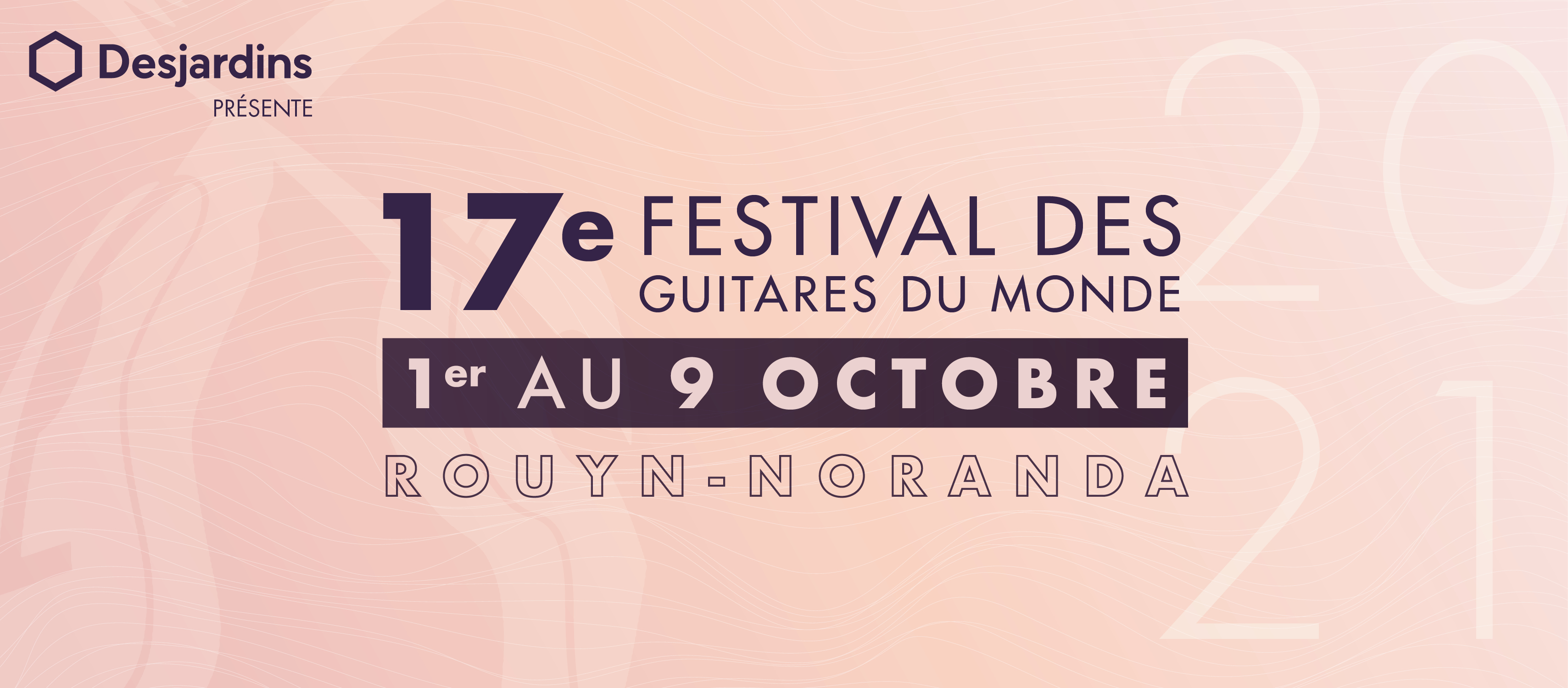 Strings on stage… and on screen
Rouyn-Noranda, August 23, 2021 – A wind of hope and renewal blew through the Team of the Festival des Guitares du Monde en Abitibi-Témiscamingue since it was necessary to adapt while deploying its share of creativity in order to prepare a superb program for you. This edition will certainly be unique… your fall will be colorful, musical… and sweet!
Rouyn-Noranda will become "Guitarville" from October 1 to 9. Nine days of festivities for the 17th edition! Yes, you read that correctly: we are giving you one more day than we usually do. In addition, the Festival is expanding its neighborhood beyond Old Noranda by adding a new venue: the Théâtre du cuivre. We remind you that Desjardins, our new official presenter and our longtime loyal partner joins us in inviting you to this great event!
We will begin the overview of our program with the artist who will open this 17th edition: MAMSELLE RUIZ. Rich in her two cultures (Mexico and Quebec) and in love with the nations of the world, Ms. Ruiz will transport us into a worldly music experience. The next day, still into worldly music but with a more flamenco twist, it is KORA FLAMENCA who will in turn make her appearance on the Glencore stage at the Petit Théâtre du Vieux Noranda. Kora Flamenca is the meeting between the Mandingo culture and Flamenco while pushing the limits of the traditional instrument, the Kora. A hybrid style where the traditional playing technique of Senegalese Zal Sissokho meets the Spanish influences of Montreal flamenco guitarist Caroline Planté. And slipping in between these two concerts, a long-awaited artist, appearing at our Festival for the very first time is: MICHEL « PAG » PAGLIARO. Get ready for an acoustic show that rocks, happening in an intimate atmosphere on the Desjardins stage at the Théâtre du Cuivre.
We are always happy and proud to welcome "our" great guitar virtuoso: RÉMI BOUCHER. Extremely pleased to share his passion for music and as well the stage, Rémi will be accompanied by fifteen musicians from the Orchestre symphonique régional (L'ENSEMBLE AIGUEBELLE) directed by Jacques Marchand, who offers you a program of concertos created for guitar and strings orchestra. This show will be presented as part of a regional tour thanks to a special collaboration between Spectour venues, the Orchestre symphonique régional and the Festival des Guitares du Monde. Continuing in the field of classical guitar we added two DAVID JACQUES performances. Firstly, a performance for families, the show "Le Collectionneur" and secondly, in the evening the "Histoire de guitares" 400 years of music, told through the voices of guitars from his personal collection.
For those who like to be left speechless as well as impressed by breathtaking technical prowess, these two shows are for you. This one-time exclusive performance with an international component is projected onto a giant screen presenting the Russian fingerstyle guitarist ALEXANDR MISKO. Only in his early twenties, Misko is a passionate and energetic performer who already has 4 solo albums to his credit… and millions of views on the web!
As for fingerpicking, we present the champion, ANTOINE DUFOUR. Of Quebec origin, M. Dufour boasts a worldwide reputation for innovation and creativity. He has double the albums of his acolyte Misko and over 50 million views! His peers recognize him as "the musician of musicians".
For a sweet, bewitching folk evening get ready for a double program with two Quebec female artists – CATHERINE DURAND and MARIE CLAUDEL. Catherine Durand, has a well established reputation as a talented singer-songwriter and guitarist who has been weaving a rich and inspiring musical journey for 20 years. With 6 albums, several nominations and recipient of several awards, her incredible talents as a melodist are undeniable. As for Marie Claudel who is new to the Quebec musical landscape, she has been quick to make her mark. She builds songs like building houses: always with the idea of inviting us live in them. This young woman stands out with her rare beauty of guitar playing ability, not shying away from letting her favorite instrument shine brightly.
Let us now turn to another Quebec artist, male this time, who after many years of musical experience, has embarked for the very first time on a solo adventure. In an Americana style, DAVID LAFLECHE, well known in the artistic community as a guitarist, producer and musical director, presents his first album, Everyday Son, as a singer-songwriter. An artist to rediscover!
For lovers of blues, jazz and roots, you will not be left out. Nothing less than three artists to fulfill your desires! First, a visit from Canadian ARIEL POSEN, guitarist, singer and producer from Winnipeg. With a "rootsy" sound influenced by rock & roll, Americana, soul, R&B and Beatles-inspired pop, Posen creates a very unique style. Nicknamed "a modern guitar hero" and voted best rock guitarist of the year, Posen along with his musicians will be presenting his most recent album, Headway.
To end the week in style, we have two great Montreal guitarists: JUSTIN SALADINO BAND and JORDAN OFFICER. For a blues evening hosted by a band in full bloom, the Justin Saladino Band will blow your mind with their new sound. The emerging and fast-rising of this young Montreal group never ceases to amaze us. And finally, Jordan Officer, virtuoso and true alchemist of sound who has asserted himself over the past two decades with unparalleled sensitivity and understated elegance. Many times awarded, this singer-songwriter knows how to channel the heritage of blues, jazz and country into one voice. Having released three albums simultaneously in July 2020, he will carry this trilogy of styles onto the stage as a duet with none other than Alain Bergé on drums.
In order to maximize the number of lucky people who will be able to attend the shows of this 17th edition, the 9 performances taking place at the Petit Théâtre will also be available as a web diffusion presented as the SÉRIE VIRTUELLE DESJARDINS. Whether you are in the region or elsewhere in the world, it will be possible to attend this great guitar festival – in person or virtually!
For more information, there is our NEW website! Having undergone a ''beauty treatment'', it seems that the site also was touched by this wind of renewal … Curious? Take a look! Above all, you will find very useful and helpful Festival information and most importantly how to purchase your tickets. Always the same address: FGMAT.COM
The year 2021 presents an edition featuring a beautiful and exciting mix of genres. The whole team warmly thanks all the partners who make this Festival a possibility. Follow us on Facebook, Instagram, Twitter and on our beautiful website.
Ticketing
Tickets will be on sale from September 1 at 9 a.m. via the online box office at FGMAT.COM and at the Festival office (37, 7th Street in Rouyn-Noranda) or at 819 797-8288 (toll free 1 877- 997-8288) as well as at the Théâtre du cuivre.
— 30 —
Source :
Renée Arsenault, Responsable des communications
Festival des Guitares du Monde
[email protected]